Sure to set the stage alight, Firebringer is Showstopper's next big hit.
Firebringer tells the story of a tribe of cave-people dealing with the dawn of humanity under the careful leadership of 'the peacemaker', Jemilla, portrayed by Issie Roll. But things start to crack within the tribe when Zazzalil, portrayed by Erin Craddock, accidentally discovers fire while trying to invent something so that her tribe can be lazy and won't have to do anything.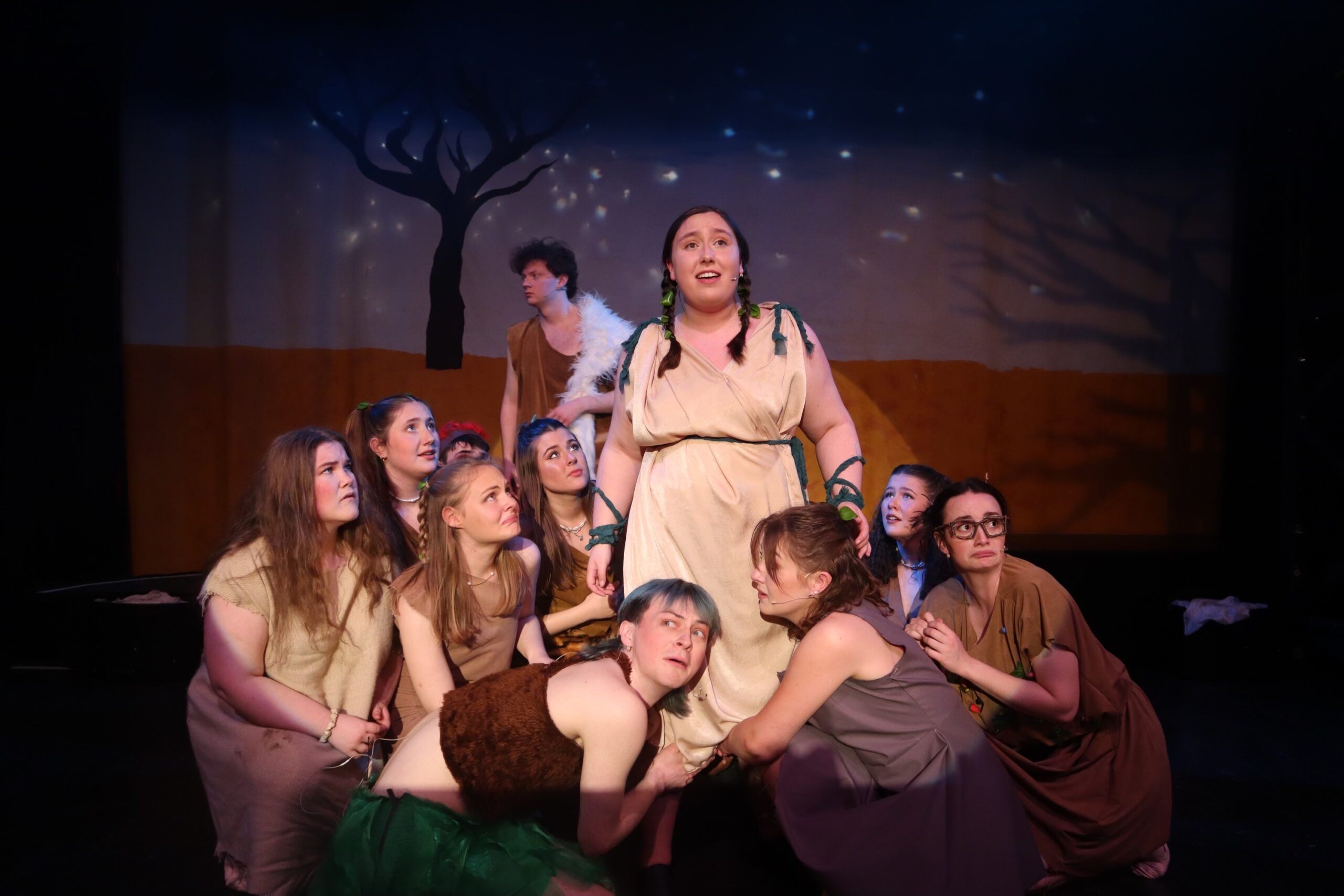 Showstopper's production was hysterical from start to finish – every single character down to the ensemble had moments of hilarity. The plot is completely insane, and yet the cast brought it to life masterfully. Niamh Grimes and Chloe Gleeson clearly did a great job of directing such a talented cast: Roll and Craddock did a brilliant job as the leads, their energy on stage working wonderfully. Craddock's vocals were particularly impressive, as well as the ease with which she executed the choreography (which was equally brilliant!). Rhiannon Morgan and James Taylor, as Emberly and Grunt (or Emily and Grant will do fine), portrayed their characters with such ease and so endearingly that I wanted to give them both a hug. Taylor's vocals were just lovely. 
As I said, every character had a moment to shine throughout the show. Dominic Leach as Molag, Will Bartlett as Ducker, Tom O'Brien as Schwoopsie, Destiny Thomas as Keeri, Emily Young as Tiblyn, and Tom Rolph as Smelly-Balls were all lovable and hilarious throughout the show. A special shout out to Isabel Scott as Chorn, whose vocals absolutely stole the show in the final song. I actually almost weed myself watching Kenny Adegbola, Amy Smith, Emily Holland, and Hermione Lester portray the other tribe; will I be going back to see it again just for this scene? Absolutely. While the cast all shone individually, bringing their own unique energy and comedic timing to their roles, they were certainly at their best when singing together, with numbers such as 'The Night Belongs to Us' and 'Climate Change' particularly standing out for the strength of the cast's collective voice.
The band, as always, were flawless, and did well with the more 'out-there' instrumentation that the soundtrack demands (bongos, marimba etc.). The costumes, which were all handmade, were exceptional, remaining loyal to the original production while still being unique; it was nice to see so many nipples in the Annex. Particularly impressive were the imposing puppets; they looked like professional standard puppets and were handled masterfully and full of personality. I also enjoyed the coverage of the rehearsal process through Showstoppers' TikTok in the lead-up to the show, which had fun behind the scenes and more in-character content using some TikTok trends. 
Overall, the cast and crew all did an incredible job of keeping the audience laughing pretty much throughout, while still showing their remarkable talent, and I can't wait to go and see it again.