The 80s saw the rise of many genres (New wave, Punk, Electronic etc…) which is what made the decade so unique. Here are the records that stand out to us as the best representations of 80s music:
Adam and The Ants – 'Stand and Deliver' (1981 – From the album Prince Charming)
Not only is 'Stand and Deliver', from Adam and The Ants' iconic 1981 album Prince Charming my most played eighties song on Spotify, it is also my second most played song of all time. Beginning with a fanfare and the sound of a horse neighing, the unusual introduction pulls you in to crashing drums and punchy guitars. Adam Ant's charismatic vocals then kick in to tell the story of a 'dandy highwayman' who mocks his victims' unfashionable dress sense to try and get them to give away their belongings.
A large part of what makes me love the song so much is its music video. Featuring the band dressed in the typical new romantic fashion of the early eighties, Adam Ant is magnetic as he plays the charming and cocky criminal, taunting his victims for their unstyilish dress with a hand mirror. He parades around the forest, interrupts a fancy dinner by swinging through the window and stomping on the tables, and escapes the death sentence for his crimes, all the while pouting his glossy lips, flaunting his extravagant white waistcoat, and waving a fake gun around. Famously known for being the inspiration behind Matthew Baynton's Dick Turpin portayal in Horrible Histories, the video helped to secure the song's status as an iconic eighties tune, skyrocketing Adam Ant himself to the status of an eighties fashion and music icon.
The song went to number one on the UK charts, and it is not hard to see why. It is one of the few songs that I can replay ten times in a row without ever becoming bored. Each listen feels fresh and new, and the sound of that opening fanfare and Adam Ant screaming 'STAND AND DELIVER', before the guitars kick in instantly grabs my attention, whether it be on the radio in the car, playing in a shop, or on shuffle on Spotify. A certified eighties cultural classic, 'Stand and Deliver' endures as my favourite eighties song ever.
By Mollie Potter
Kate Bush – 'Babooshka' (1980 – From the album Never for Ever)
Before 'Running Up That Hill' came Kate Bush's musical gift to the 80's, 'Babooshka'. The catchy song debuted at number 5 in the UK charts, but it deserves way more appreciation!
'Babooshka' tells the story of a girlboss who suspects her husband has fallen out of love with her, so she takes on the pen name Babooshka and sends her husband cheeky notes as a younger woman. The song is notable for the use of a Fairlight CMI digital synthesiser, which gives the song a very groovy feel and makes it perfect to dance to! The subtle electronics of 'Babooshka' marks it firmly in the genre of 80's music.
This is such a snappy little tune that will get stuck in your head forever! I didn't even like it that much when I first heard it, but there is something about Kate Bush that is so hypnotising. Is it that witchy soprano voice? Is it the storytelling? Is it the surrealism of her music? She is such a marvel to the music world, with creativity and energy that is so incomparable. 'Babooshka' is a timeless masterpiece, and so is Kate Bush herself!
By Amy Scott-Munden
Prefab Sprout – 'The King of Rock 'N' Roll' (1988 – From the album From Langley Park to Memphis)
While it is unlikely to be featured in an 'iconic 80s' playlist anytime soon, the slightly-forgotten 1988 hit The King of Rock 'N' Roll by County Durham's Prefab Sprout deserves a place amongst the best songs of the era.
Focusing on a washed-up 1950s singer whose glory days are behind them, remembered only for a strange novelty hit, the song is perhaps most memorable for its nonsensical chorus of "Hot dog, jumping frog, Alberquerque". While at first they may just seem like three unrelated nouns, which they are, somehow songwriter and frontman Paddy McAloon combines them to create a mysteriously catchy chorus that will certainly be stuck in your head for months to come.
The whimsical lyrics are backed by a gloriously funky new-wave groove, featuring both the synthy goodness that you'd expect from the era and sounds far from dated to the modern ear, with its influences clear in modern releases by the likes of The 1975 (namely Love Me) and Smallpools. McAloon's vocal style for this song, immitating the 50s rock stars that the song is concerned with, also gives it an interesting edge compared to its contemporaries.
Sadly McAloon is not quite as fond as myself, stating in 2000 that being remembered for the song feels like The Beatles if they were best knows for their children's song Yellow Submarine, as opposed to Hey Jude, which is a shame. While The King of Rock 'N' Roll is a lot more 'mainstream' sounding than much of their previous work, creating a pop song this fun yet still sophisticated in its subject matter is an art form in itself. Although, perhaps he'll get some solace from the fact that, despite it being by far their highest charting single, is currently only their fourth most popular on Spotify – behind Bonny, When Love Breaks Down (both from their earlier, 'sophistipop' albums), and Cars and Girls. However, The King of Rock 'N' Roll is for me both their best song and my contender for the best song of the decade, so cheer up Paddy!
By Callum Joynes
Cyndi Lauper – 'Girls Just Want to Have Fun' (1983 – From the album She's So Unusual)
Unarguably, the 80s were a decade of constant hits, so trying to whittle down to a favourite song of the 80s is particularly difficult. It could have been Dolly Parton's 'Jolene', perhaps Fleetwood Mac's 'Everywhere', or even Bronski Beat's 'Smalltown Boy'. However, when I think of the 80s, my mind always rolls back to a particular gem by Cyndi Lauper that is none other than 'Girls Just Want To Have Fun', and man is it a phenomenal song at that. Taking everything synonymous with words like upbeat, Lauper creates a solo track that is equal parts gay awakening as it is pure 80s freedom. A rip-roaring track all about pure unadulterated joy, Lauper tracks the highs of being bound by nothing else than your own desire to have fun. It's a lively track, steeped in elements of disco while staying true to its pop core, and a demonstration of Lauper taking the premise of her free-flying life and interning it into one of the most iconic and quintessential songs of the 80s.
By Sam Pegg
Kate Bush – 'Running Up That Hill (A Deal With God)' (1985 – From the album Hounds of Love)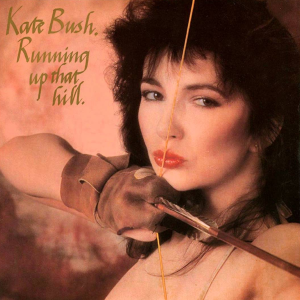 Having first discovered 'Running Up That Hill' covered by Placebo when I was about 13 years old on The Vampire Diaries (embarrassing, I know); I was enamoured by the melancholic lyrics combined with the unique 80's riffs. Quickly locating the original by Kate Bush, it immediately became a favourite in my haze of early teen gothic angst. A tune I could enjoy, but also a piece of art that made me feel something. Not only this, but the interpretative dance and the eery lilac aesthetics of the music video only added to my love of the song and its meaning. As always with Kate Bush, it was different, unique, and encapsulated a sadness I could relate too. 
On that note, then, it was the profound lyrics that spoke to me, moving me deeply to this very day. To me, the lyrics fall into the realms of grief and yearning. Having grown up with my beloved elder brother being severely disabled, passing away just a year after I discovered the song, I so desperately wished I could 'make a deal with God' and 'get him to swap our places,' as the chorus laments. At 14, these feelings are traumatic and complex to deal with- hearing them so beautifully laid out in music just brought that little bit of comfort. The recent resurgence of 'Running Up That Hill (A Deal With God)' in Netflix's Stranger Things, then, is wonderful to me. The song is directly linked to the character Max, having also experienced familial loss in earlier seasons. It felt beautiful, validating, and overall, peaceful to see this piece of music, that means so much to me, be appreciated so widely again. For these reasons alone, Running Up That Hill (A Deal With God) is my favourite 80's song of all time. 
By Emily Poole